Tomorrow, I join the fast and furrious migration to AnthroCon 2013!
During the day, you can find me in the Dealer's Room, at table E05, across from the Sofawolf Isle in the middle of the room!
Here's a map!
I will have the usual fair, prints of all shapes and sizes, including large
16x12 signed and numbered prints of Winter's Shadow
and Dragonborn! Also, I'll have originals for sale at the table, including some
ready-to-wear badges
, little
animal paintings
, sketches, and then some Scratches CDs. This year, I will also have a few things I've never had before, but I'll keep 'em a surprise for the moment, so you'll have to come by the table sometime to see 'em!
Hint: if you like Dog's Days of Summer and having something to put your beverage in, you might want to come by early since I don't have many!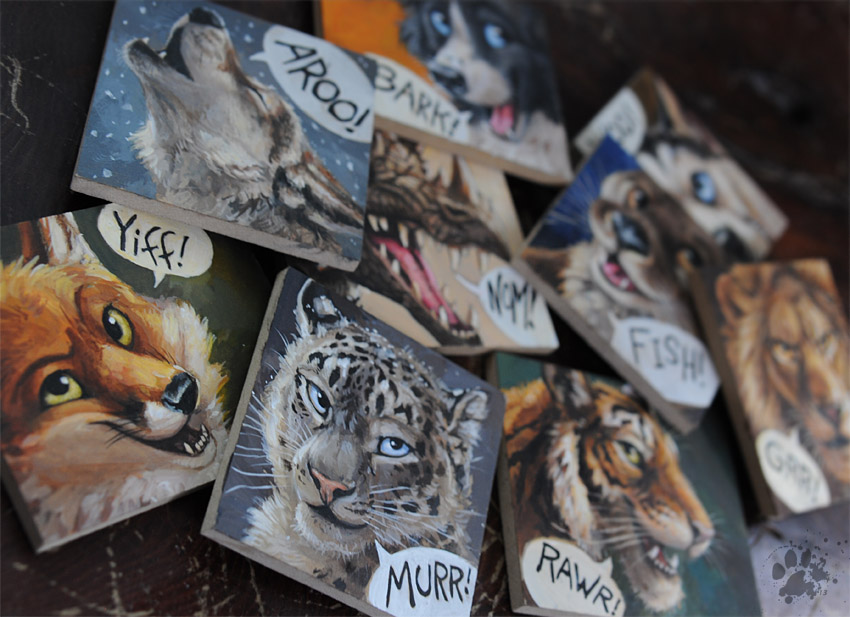 (3x3" wooden squares I painted, which will be for sale at my table!)
Secondly! Check out
Sofawolf Press
and pick up a copy of
Heat Vol. 10
, too! I have a 12 page adult comic in this anthology!
Sofawolf Press will also have
Dog's Days of Summer
,
Nordguard: Across Thin Ice
, the
Nordguard Card Game
, and of course, Kyell Gold's
Out of Position
books!
(Actually, for the very first time, Kyell Gold will be at AnthroCon, so you can get your books signed seven ways 'til Sunday in person!)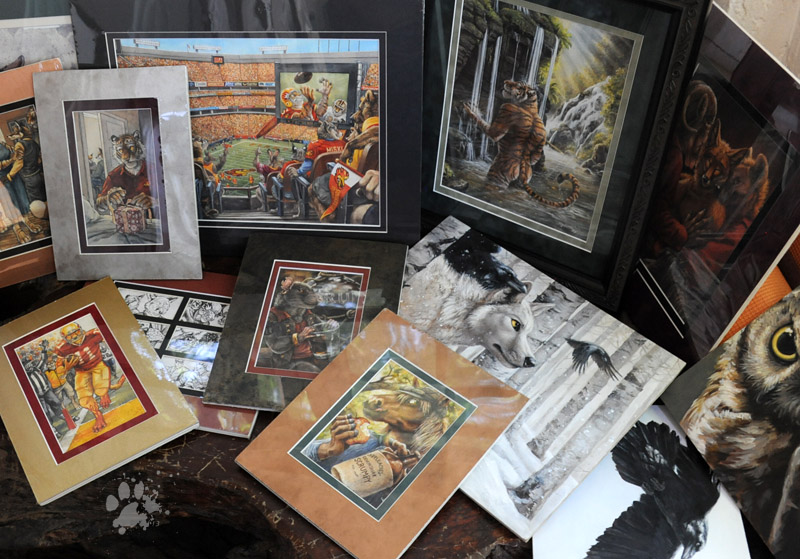 (Some of the stuff for the artshow, matted/framed and shrink-wrapped!)
Lots of paintings for sale in the artshow, too, of course:
Cleansing
,
Winter's Shadow
,
Divisions
, a few of the Divisions interior originals,
Yo Ho Ho
,
Scrumptious
,
Initiated
,
Saw-Whet
,
Limbo
—and the very last, 5/5 of the large limited edition prints of
Puppy Love
. Also, I will have a handful of stuff in the adult show!
I've been looking forward to the convention a lot, since it's the beginning to a very fun (albeit busy) summer! This one's going to be a good one!
Fireworks, baby!